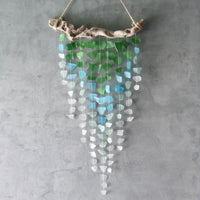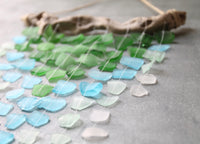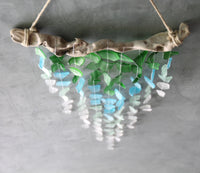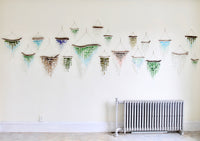 Sea Glass & Driftwood Mobile - Ocean Ombre
This is a sea glass mobile / sun catcher / wall hanging made with sea glass, tumbled glass, and hung on driftwood found on the beach. It is expertly handcrafted in Massachusetts. Each mobile is a one of a kind item. Every piece of tumbled glass is hand-tied with fishing line.

There are 101 pieces of sea glass (real and tumbled) in this mobile. I have used the following colors: Emerald green, aqua, seafoam, and white.

Dimensions:
-widest point on the driftwood : 11"
-from top of rope to longest string of glass: 29"

I recommend hanging this in a highly visible, sunny spot indoors or out. The sound of the glass is very delicate and charming. This is not made to withstand rough winds, so if hung outside use common sense as to the location.

Please feel free to contact me with any questions.