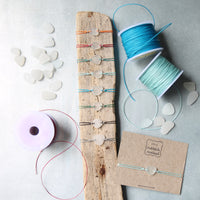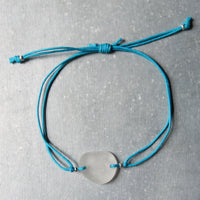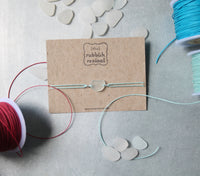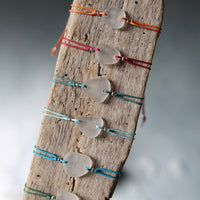 Sea Glass & Cotton Bracelet
These sea glass, sterling silver, & cotton cord bracelets are so simple and sweet. Made with real sea glass plucked from the beach and hand-drilled in The Rubbish Revival studio. Each one is made with the utmost care and quality findings.
Easy to wear, fits most wrists. The secure slider in the back makes it easy to adjust this bracelet to size. Available in a variety of cool colors pick the one you like as you add this to your shopping cart. Please get in touch if you need a bracelet that is either extra large, or extra small.
Since these one-of-a-kind bracelets are made with real sea glass, each bracelet is different and unique in its own way... just like you! The bracelet you receive will be similar to the ones in the photo.
Size: Fits most wrists
Sea Glass: Approx. 1/2" - 3/4" (10mm - 20mm)
Sea glass bracelets make wonderful wedding jewelry or bridesmaid jewelry gifts. Discounts available one orders of multiples.
Be sure to check out our other minimalist cotton bracelet with sterling silver charms. They look great layered up showing off your own personal style. ✨🌈